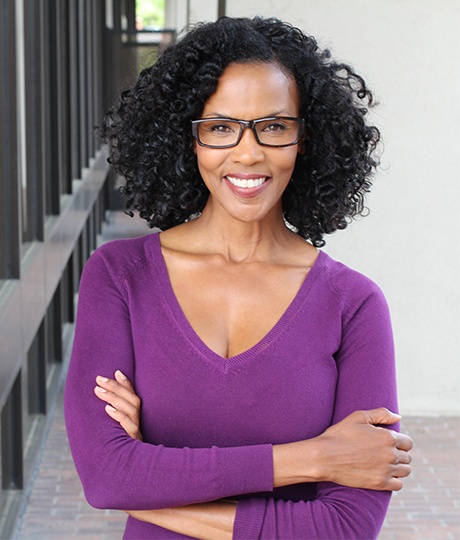 Dental Implants – Vienna, VA
Replace Your Entire Tooth With Dental Implants
When a tooth is lost, many people don't realize that the tooth root comes out with the crown as well. The implications behind this are quite extensive, as your biting force, oral health, and overall appearance are dramatically affected as a result. However, if you want to ensure your next tooth replacement lasts as long as possible, feels natural from top to bottom, and actually gives you the freedom to eat the foods you want, dental implants in Vienna, VA are likely for you. To learn more about the treatment process, call Dr. Saad's dental office today!
Why Choose Pace Dental of Vienna for Dental Implants?
Works with Fairfax's Top Dental Implant Specialists
Get Restorations Customized & Made In-House
Detailed Planning Phase to Ensure Successful Treatment
What Is a Dental Implant?
A dental implant is a complex tooth replacement that is broken down into three components. This includes the implant post that acts as the replacement root, the porcelain restoration that's affixed to the implant, and the abutment that connects the two components together and provides long-term stabilization. Dental implants can be used to replace single teeth, but they can also be placed throughout the mouth to hold a larger implant-retained denture.
Benefits of Dental Implants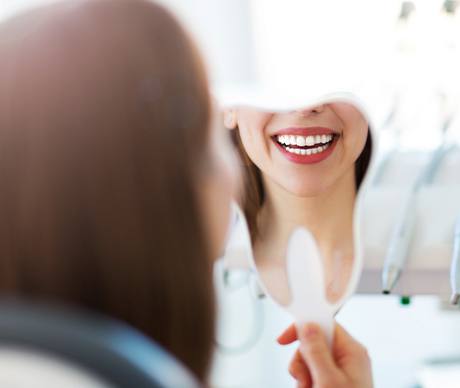 Once you have a dental implant integrated with your bone and soft tissue, you'll hardly be able to tell the difference between your natural teeth and your tooth replacement. The titanium post is biocompatible with your existing oral structures, which means it will not only feel incredibly natural but also give your jaw the biting strength it had before you lost your tooth. Eating the foods you used to enjoy, including steak, apples, and nuts will be easier than ever!
Furthermore, dental implants are designed to last for a minimum of 25 years. However, they typically last for the rest of a patient's life, as long as they practice daily oral care and maintain routine dental appointments. They also have an incredibly high success rate, averaging at about 95 percent. If you want a tooth replacement that is reliable, long-lasting, natural-looking, and truly comprehensive, you don't need to look any further!
Are Dental Implants Right For Me?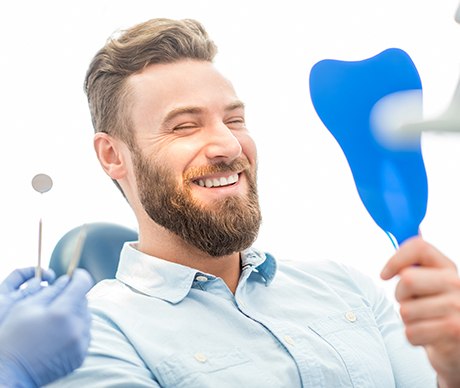 People who are missing one tooth, multiple teeth or even all the teeth in their smile can benefit from dental implants. To find out which option might work best for you, consider reading about the different treatments below!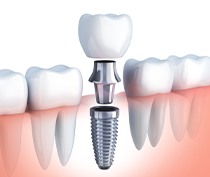 Missing One Tooth
A single implant is placed into the jaw, which is given time to heal and integrate with your bone tissue. After a few months have passed, we can place the abutment and allow for a few more weeks of healing before finally placing the permanent porcelain crown on top.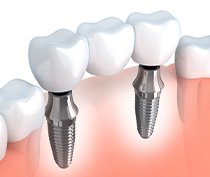 Missing Multiple Teeth
Instead of modifying existing tooth enamel to hold a traditional dental bridge, a pair of dental implants can be used to hold a larger three- or four-crown bridge. Not only does this fill the gap in your smile, but it offers a more conservative approach to dentistry.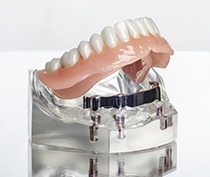 Missing All of Your Teeth
A series of dental implants can be placed throughout the mouth to provide a foundation for a full or partial denture. Dentures held in place via dental implants are more stable overall, provide an incredibly natural esthetic, and ensure longevity. You can even customize them to be fixed or removable depending on your preference!
Partners with the Best in Fairfax County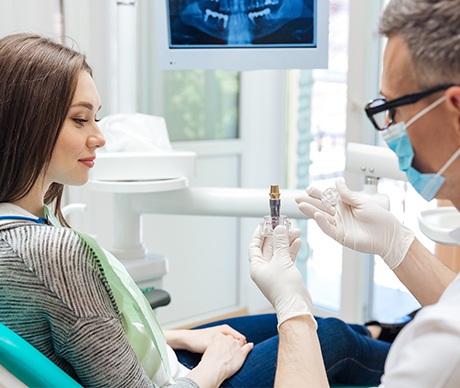 When you visit Dr. Saad for dental implants, you'll be happy to learn that he partners with the best of the best to complete the procedure. This ensures that your treatment will be a complete and total success and should give you the confidence that your tooth replacement will last as long as possible. Once you complete the surgical portion of your implant treatment with a specialist in Fairfax County, you'll come back to our dental office to have your permanent restoration placed.
Understanding the Cost of Dental Implants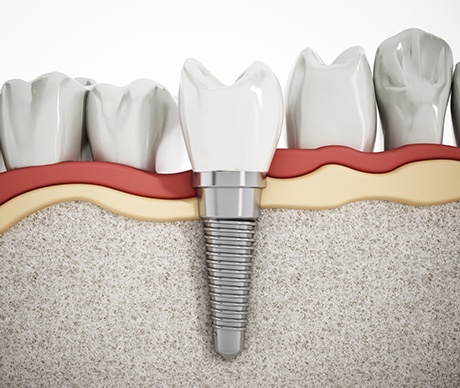 It's important to keep in mind that the cost of your dental implant treatment will likely be unique. This means that your costs will vary from any other patient's. With that said, the number of implants you need to have placed will be the most influential factor when determining your final costs.
Even though dental implants can have a high upfront price tag, it's important to note that they are still considered to be the most cost-effective tooth replacement option because of their longevity and functionality. In fact, dental bridges and dentures can cost more in the long-term because they often need to be replaced every few years, while dental implants do not.