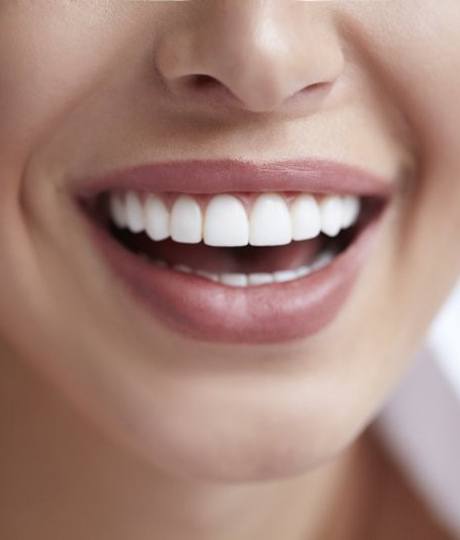 Veneers – Vienna, VA
Conceal Cosmetic Flaws in Your Teeth
Do you ever feel like your smile leaves a lot to be desired? Veneers are one of the most popular cosmetic dentistry treatments available today for people looking to improve their smiles, and for good reason. This treatment is incredibly versatile and effective. At Pace Dental of Vienna, we are more than happy to offer veneers in Vienna, VA to our patients. To learn more about veneers and how they might be just the thing your smile needs, keep reading below.
Why Choose Pace Dental of Vienna for Veneers?
Metal-Free Way to Improve Your Smile
Correct Multiple Smile Imperfections at Once
Last 10 Years or More with Proper Care
What Are Veneers?
A veneer is a thin porcelain covering that can be bonded to the front-facing surface of your problem teeth to correct multiple smile imperfections in just one treatment. You can think of them like tiny "masks" that conceal cosmetic flaws in your teeth. Each veneer is custom-made according to many factors, like your skin tone, face shape, and the way the rest of your teeth look.
Am I a Good Candidate for Veneers?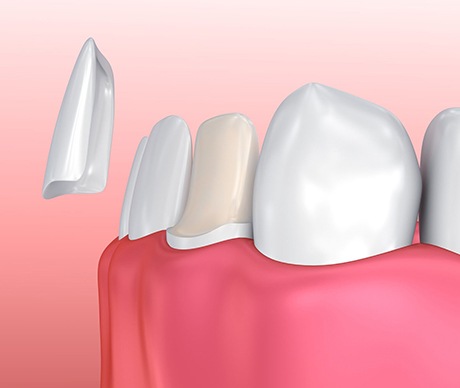 If you're an adult with any of the following cosmetic flaws in your smile, you might be a candidate for veneers:
Cracks or chips
Minor gaps
Stubborn stains or discoloration
Slightly crooked or rotated teeth
Generally misshapen teeth
Veneers are most effective when used on teeth that are already healthy. For this reason, we highly recommend you attend a dental checkup before undergoing any elective procedures like veneers.
Process of Receiving Veneers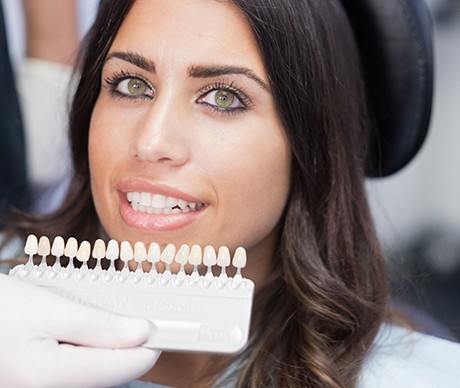 Getting veneers typically takes two appointment (not counting your initial consultation) over two to three weeks. During the first of these visits, Dr. Saad must prepare your teeth to receive the veneers by removing the outermost layer of enamel. This step ensures that your restorations will not bulge out unnaturally in the line of your smile. After the enamel has been shaved away, impressions are taken and sent to a trusted dental lab. From there, a professional ceramist will begin crafting your veneers to our exact specifications.
In the meantime, we can place temporaries to protect your teeth and let you grow accustomed to the way they feel and look. A few weeks later, you'll come back to our Vienna office, where we'll replace your temporaries with your permanent veneers, and voila! We'll send you out into the world to enjoy your new and improved smile!
Benefits of Veneers
Some of the major advantages of veneers are:
The entire treatment can be completed in just two appointments over the course of a few weeks, unlike some other cosmetic treatments, which can take months.
Veneers can correct virtually any smile imperfection with just one procedure.
Every individual veneer is designed to fit within your unique smile and appear as natural as possible. You won't have to worry about "chiclet teeth." In fact, most people probably won't even be able to tell that you had dental work done!
Dental porcelain is incredibly stain-resistant because it's not nearly as porous as tooth enamel. You'll be able to enjoy items like coffee, tea, and berries to your heart's content without worrying about it discoloring your grin.
If you take care of your veneered teeth with regular brushing, flossing, and dental checkups, they can last 10 years or even longer.
Schedule Your Consultation Today!
Now you can see why veneers in Vienna are so popular. Are you ready to completely transform your smile with this treatment? Give our team a call today to book your consultation. It could be the first step in your journey to a perfect smile!