Root Canal Therapy – Vienna, VA
Save Teeth, Stop Pain
When people think of root canal therapy, they tend to think of it being an extremely uncomfortable treatment that doesn't necessarily help them or their oral health. The reality is that root canals are no more uncomfortable than receiving a dental filling, and they are actually designed to save teeth from extraction. It's Dr. Saad's goal to preserve a patient's natural teeth however possible, and root canal therapy in Vienna, VA can play a major role in this process. If you're experiencing severe tooth pain, don't hesitate to call our dental office to schedule an appointment!
Why Choose Pace Dental of Vienna for Root Canal Therapy?
Nitrous Oxide Sedation Available
CEREC Crowns for Same-Day Restorations
Dentist Dedicated to Your Comfort
Do You Need a Root Canal?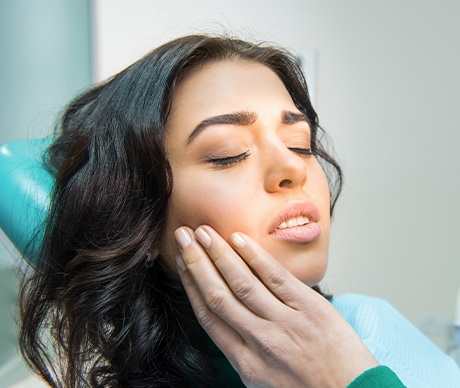 If you are experiencing severe pain in any of your teeth, and you aren't sure what the cause could be, it's important to pay close attention to accompanying symptoms. For example, if you have a high fever or notice severe discomfort whenever you try to bite down, it could be due to an infection developing inside your root canal. If your tooth is also particularly dark, especially dark brown, gray, or black, it's a sign that the pulp at the center of the tooth is dead or dying. We'll confirm if you need a root canal performed during an exam.