Meet Our Dental Team – Vienna, VA
Meet Your Dental Family
With our team, you aren't just another name on our schedule, but a new friend that we're eager to learn about and serve! Nothing makes our staff happier than showing a patient just how easy and relaxing visiting the dentist can be when you're being looked after by a skilled and experienced team. They'll help you feel right at home starting at your first appointment, and you can begin getting to know everyone by reading on below.
Ericka, Office Manager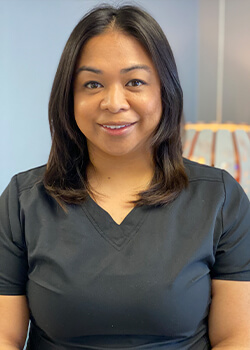 Originally from Stephens City, Ericka has been working in the dental world for over five years so far. Here at Pace Dental of Vienna, she loves building wonderful relationships with the patients! Over time, they start to feel just like a second family.
At home, Ericka and her husband Jimmy have a daughter named Lani and a Boston Terrier named Mojo. They're also welcoming a brand-new baby boy to the family in February 2020! When she isn't busy at the dental office, her favorite hobbies include going to the movies, shopping with her daughter, cheering on her traveling basketball team, and indulging in sweet treats.
Lauren, Dental Hygienist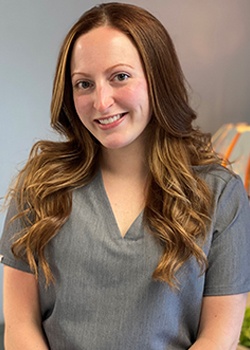 Originally from Pennsylvania, Lauren completed her studies at Temple University before attending Manor College. Since then, she has earned her certification in soft tissue lasers, which she uses regularly to provide treatment that yields the best results possible. When asked about her favorite aspect of her job, she shared that it is getting to genuinely know each patient and educating them on their oral health in the process!
Outside the office, Lauren enjoys hiking, kayaking, and gardening. She and her boyfriend also love visiting local wineries and breweries. Something you may not know about her is that she wanted to be a museum curator after spending three weeks in England and France when she was 15!
Noushon, Dental Assistant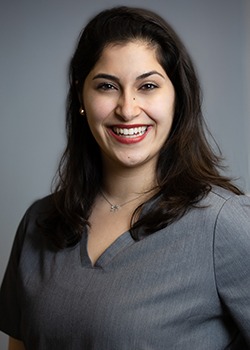 Noushon has been working in the dental world for nearly five years so far – in fact, she's currently applying to dental schools to further her education! As one of our assistants, she loves working with such a wide variety of patients and providing them with the best possible care. In turn, they appreciate her extroverted, sociable nature.
Noushon is a Vienna native and currently lives at home with her parents. In her spare time, one of her biggest passions is playing and coaching volleyball! She is currently on an adult rec team and has been coaching youth teams since she was in high school. She also regularly attends fitness classes with Orange Theory, bakes a variety of pastries, travels, and spends plenty of quality time with family and friends. On her own, you can often find her binge-watching Netflix shows like Grey's Anatomy!
Nuris, Dental Assistant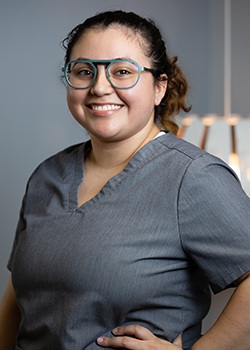 Nuris is originally from San Miguel, SLV, and she is one of the newest members of our team. She loves connecting with patients, transforming their smiles, and boosting their confidence through dentistry. In fact, those are her favorite aspects of working at our office!
In her free time, Nuris likes hiking, walking, and canoeing in the great outdoors. She also enjoys reading and catching up with her family on Sundays!